next:urban technologies GmbH is a pioneer when it comes to dynamic passenger Information based on E-Paper. Already in 2012, the first E-Paper passenger information projects started at the ÖBB, the Wiener Lines and the Holding Graz Lines. With over 40 satisfied customers in public transport and more than 400 installations of various types and sizes, next:urban technologies GmbH is one of the market leaders in the segment of E-Paper Displays in the outdoor sector.
E-Paper 13,3 Inch
Design meets technology is our motto when it comes to the urban station at the bus stop. We make no compromises in terms of quality and functionality. The representations of all graphics is easily possible in 16 shades of gray over the complete temperature range from -30 °C to +70 °C, thanks to a built-in heating system.
The barrier-free operation is fully guaranteed by means of a text-to-speech read-aloud function and a specially developed visually impaired mode with the auxiliary community of the blind and visually impaired in Austria, standard-compliant operation, 2 sense principle of course.
On request, the E-Paper DPI will become a Disaster Terminal by expanding it with DAB+.
KEY FEATURES
fully graphic-capable
Perfect readability even in direct sunlight
Optical Bonding
Lighting with proximity sensor
Data transmission via: LTE , LAN , DAB+
Temperature range from -30 °C to +70 °C
Relapse layer at real-time Displays
SUPPLY OPTIONS
Directly connected to the power grid, this is the urban standard solution.

With an additional battery pack, the display is also operated during the day with the cost-effective night power.

Fitted with battery pack and solar panel, this autonomous solution also enables displays in the most outlying locations.
---
E-Paper 32 Inch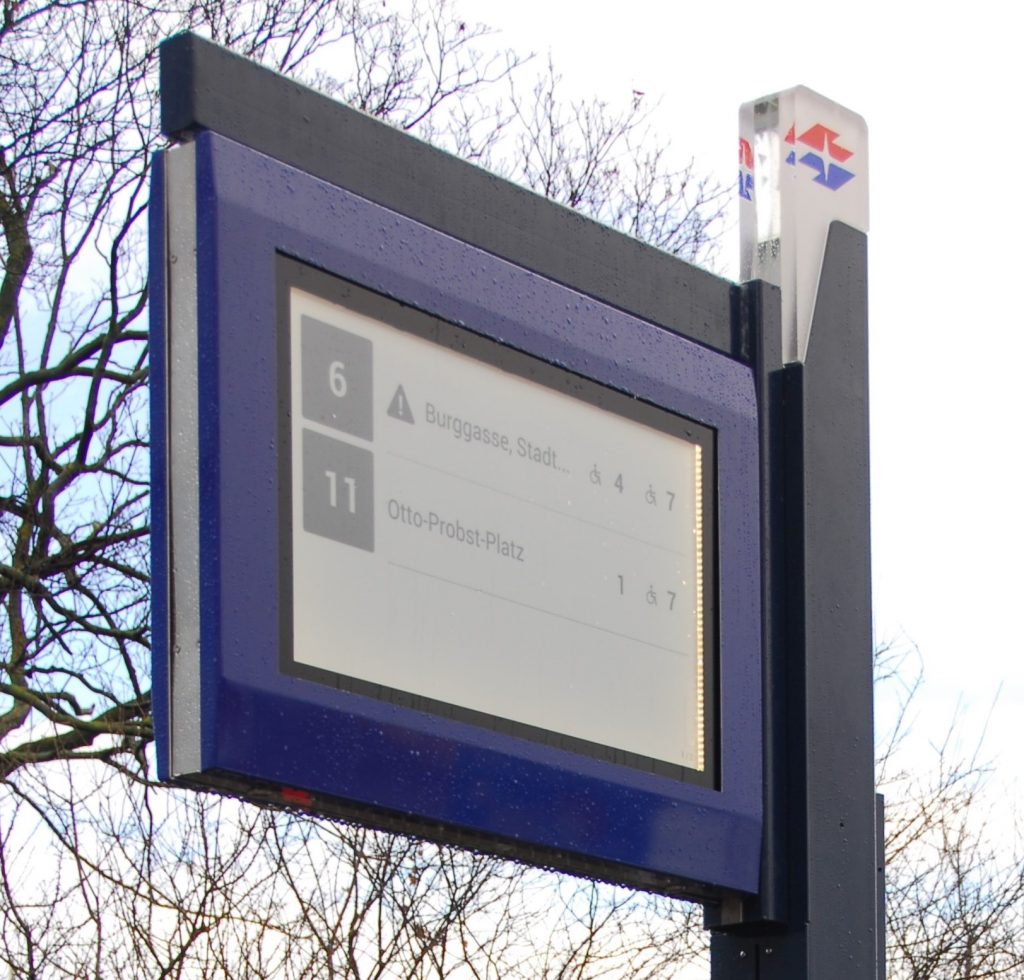 Whether one-sided or double-sided, the new next:urban E-Paper overhead E-Paper Display is the star among passenger information systems. The extremely slim design in combination with the unsurpassed readability make the 32-inch terminal from next:urban the ideal Display at the Station.
Without built-in fans and without filter mats that have to be replaced, the terminal works maintenance-free. Due to the low energy consumption, our 32-inch E-Paper overhead Display is also very attractive in terms of preservation.
Optionally, barrier-free operation via text-to-speech read-aloud function is also available.
Key Features
fully graphic-capable
Perfect readability even in direct sunlight
Optical Bonding
Lighting Day/Night controlled
Data transmission via: LTE , LAN , DAB+
Temperature range from -30° C to +70° C
Relapse layer at real-time Displays