E-Paper Indoor Displays also prove to be a perfect indoor display medium. The low-power approach as well as the easy retrofitting for a wide variety of applications justify the medium of E-Paper.
An excerpt of our project examples: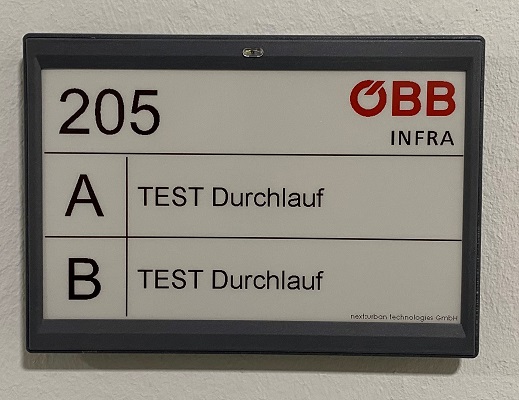 For the ÖBB apprentice home in St.Pölten (AUSTRIA), automatic door signage was required. The length of stay of the guests is between one overnight stay and the stay over several weeks. Keeping the 40 rooms with the right names of the guests always up to date was extremely time-consuming. So a system was developed that automatically takes over the occupancy of the rooms (name of the guest) from the booking system and displays it on the door signs.
EUREST – Food Labeling
Under the leadership of EUREST, Europe's largest self-service restaurant was built for the Bank Austria Campus. The customer's wish for various parts of the restaurant was not to use conventional screens but deliberately E-Paper displays, away from the color to the point of black and white representations. Thus, 32″ Displays and 13″ Displays were installed. Depending on the food and menu situation, the battery-operated Displays can always be easily adapted and located according to the circumstances. The Displays were connected directly to the POS system. In the future, this will ensure that food names and price labelling are always correct. Even ad-hoc changes that occur again and again during the day are correctly displayed on the Displays within seconds.
University of Natural Resources and Life Sciences – Lecture Hall Occupancy
Large screens in the entrance area of BOKU were already part of the existing infrastructure. However, BOKU wanted the information to be carried on to the lecture hall. For example, a 13″ E-Paper was mounted at the entrance area of each lecture hall. The data connection takes place via the existing classroom booking system. In this way, students can check whether they are attending the correct course before entering the lecture hall. The information content begins with the course title, the lecturer and goes up to the duration of the course. Furthermore, the next two courses of the current day are also announced. The power supply and the data supply was realized via PoE connection.
Wiener Linien – Menu Notice
For the bistro of Wiener Linien, a 32″ Display was placed in the entrance area of the bistro to display the menu plan. The daily dishes were set up with small 6″ Displays directly in front of the warming containers. Here, too, the goal was to bring the content to the Displays with a high degree of automatism. So, the planning software of the bistro operator reads out the menu of the week and displays it accordingly on the large display and on the small displays.